September 23, 2023 5:18 pm
Leave your thoughts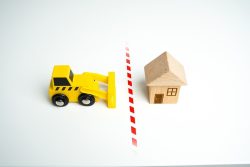 Are you planning to demolish a building or structure in Indiana? Before you begin the demolition process, it is crucial to understand the requirements and regulations regarding demolition permits in the state. Demolition permits ensure that the process is carried out safely and according to the law. In this blog post, we will discuss some important things you need to know about demolition permits in Indiana.
What is a Demolition Permit?
A demolition permit is an official document issued by the local government that grants permission to tear down a building or structure. It serves as a record of the approved demolition project and ensures that all necessary safety measures are in place during the process. It is illegal to demolish a building without obtaining a permit first.
Who Needs a Demolition Permit?
Anyone planning to demolish a building or structure in Indiana needs to obtain a demolition permit, regardless of the size or location of the project. This applies to both residential and commercial properties. Whether you are demolishing a small shed or a large commercial building, you are required to comply with the demolition permitting process.
How to Obtain a Demolition Permit?
To obtain a demolition permit in Indiana, you need to contact your local building department or the Department of Code Enforcement in your city or county. They will provide you with the necessary application forms and guide you through the process. Keep in mind that the requirements and procedures may vary depending on your location, so it is essential to check with the local authorities.
What Documents and Information are Required?
When applying for a demolition permit, you will need to provide certain documents and information to the building department. Typically, you will need to submit the following:
1. Application Form: Fill out the provided application form with all the necessary details about the project, such as the property address, the type of structure to be demolished, and the estimated timeline.
2. Site Plans: Prepare detailed site plans that indicate the existing structure and any adjacent buildings, utilities, and property lines. The plans should include the dimensions and materials used in the structure as well.
3. Asbestos Survey: In some cases, an asbestos survey may be required before starting the demolition. This is to ensure proper handling and disposal of any asbestos-containing materials present in the building.
4. Proof of Insurance: You may also need to provide proof of liability insurance coverage that protects against any accidental damages or injuries during the demolition.
5. Fee Payment: Most demolition permits require a fee payment, which varies depending on the size and complexity of the project. The fee covers the administrative costs associated with reviewing and processing the permit application.
The Process of Obtaining a Demolition Permit
Once you have prepared all the necessary documents and forms, you can submit your application to the local building department. They will review your application and conduct a thorough inspection of the property to ensure compliance with the building codes and safety regulations. This process may take a few days to a couple of weeks, depending on the workload of the department.
Upon approval, you will receive your demolition permit, which will include important information such as the permit number, expiration date, and any special conditions or requirements. Make sure to keep a copy of the permit on-site during the demolition process, as it may be subject to inspection by local authorities.
Conclusion
Obtaining a demolition permit is a crucial step in any demolition project in Indiana. It ensures that the process is carried out safely, protects the surrounding environment, and complies with local regulations. By following the necessary procedures and providing the required documents, you can obtain your demolition permit and proceed with your project with peace of mind. Always consult with the local building department for specific guidelines and regulations in your area.
Got Questions? Let Us Help!
Since we were established in 1974, Estes Excavating Inc. has been a premier provider of commercial excavating and demolition services in the Jeffersonville, Indiana area. We are a family owned and operated business with over 40 years of experience! Our friendly and professional staff strive to bring you quality service and reasonable prices with everything we do. At Estes Excavating Inc., we provide a variety of services including excavation, demolition, land clearing, environmental clean-up, storage tank removal, new construction preparation, and fire system installation. We even have top soil and dirt available for purchase! So call us now or stop in today to speak to a member of our staff. We look forward to hearing from you!
Categorised in: Demolition Permits
This post was written by admin